This group is part of the A.C.C.E.P.T. Program™
suite of groups for neurodivergent youth and adults that promotes understanding, communication, and connection.
Ideal for individuals in grades 7 to 12 who: 
identify as neurodivergent or have traits associated with AD(H)D, Autism, Dyslexia, Dyspraxia, Tic disorders and/or other form(s) of neurodivergence (formal diagnosis not required)
Express and communicate experiences, thoughts, feelings and ideas
Make connections with other neurodivergent tweens and teens
Explore their own identity and interests in-depth
Receive and/or offer peer support within a safe and respectful group setting
The ND Room is a weekly, 10-session, virtual, activity-based, peer support group for neurodivergent-identifying youth of all genders, in grades 7 to 12. Sessions are 120 minutes per week. The group will be exploring and discussing weekly topics surrounding identity and self-acceptance. Weekly topics of discussion include gender, sexuality, neurodiversity, masking, relationships, self-advocacy and more.
"My hope for the ND Room is to contribute to a space in which participants can connect, have fun, learn from one another, and celebrate their authentic selves. Being trans and neurodivergent, I recognize the power that community, friendship, and seeing ourselves reflected in others can have on our overall well-being.
I hope to encourage such connections by creating a safe, welcoming, and inclusive environment for all to show up exactly as they are."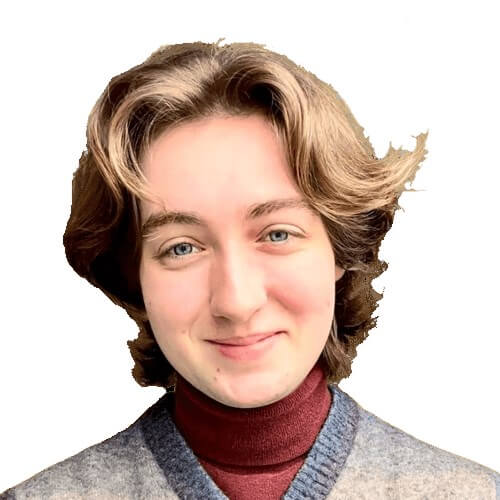 Robyn Livingston (he/him)
BSW, RSW
Registered Social Worker and Group Facilitator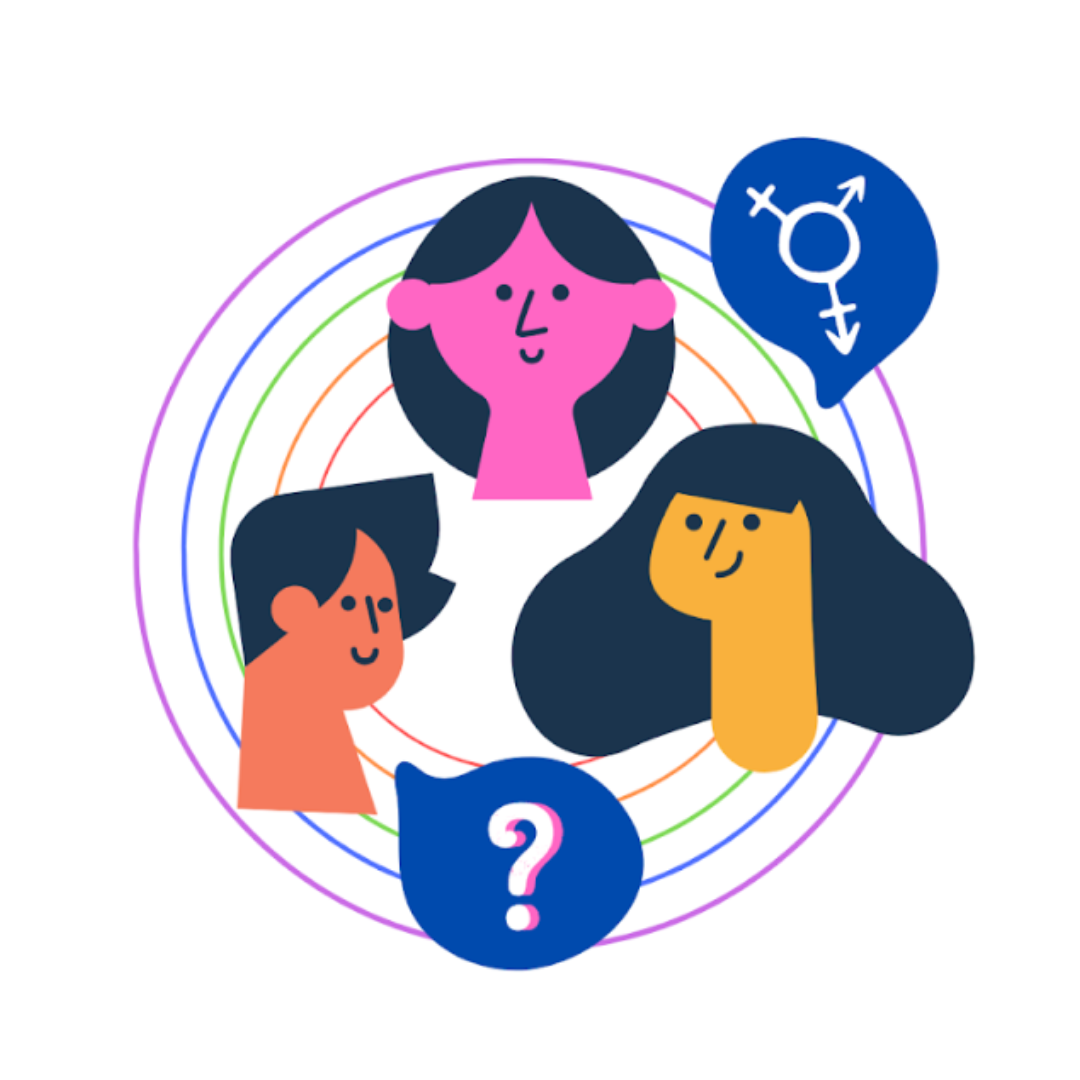 Weekly Themes
Week 1: IDENTITY What is neurodiversity to you? Who are you right now? What are the labels and language you identify with? 
Week 2: SELF-EXPRESSION How do you express your gender? How do you see yourself? What is a unique aspect of who you are? What are your interests?
Week 3: UNDERSTANDING What is your sexuality and how do you identify? What are your needs and boundaries within your personal relationships? What makes you comfortable and uncomfortable in social situations?
Week 4: INTERESTS What is a unique aspect of who you are? What are your interests? What are you passionate about?
Week 5: SOCIAL PERCEPTION How do others see you? What is masking to you? How does masking affect you?
Week 6: COMMUNITY What are your experiences in your daily life (at school, with family and friends, etc)? Who do you relate to? How do you see yourself represented in the world and in media?
Week 7: SELF-ADVOCACY + SUPPORT How do you advocate for yourself? How could you better advocate for yourself? Who or what supports you? How do you self-regulate? (poll for the following week)
Week 8: Open Topic 
Week 9: Open Topic
Week 10: CONNECT Share, discuss and reflect on the group activities, touching upon each topic. Then the facilitators will receive group feedback.
1. Check-in + Group activity (45 mins)
3. Group discussion + Break-out rooms (40 mins)
5. Close group: final thoughts + feedback (15 mins)
Enquire about the 2024 Group
Other A.C.C.E.P.T. Program™ groups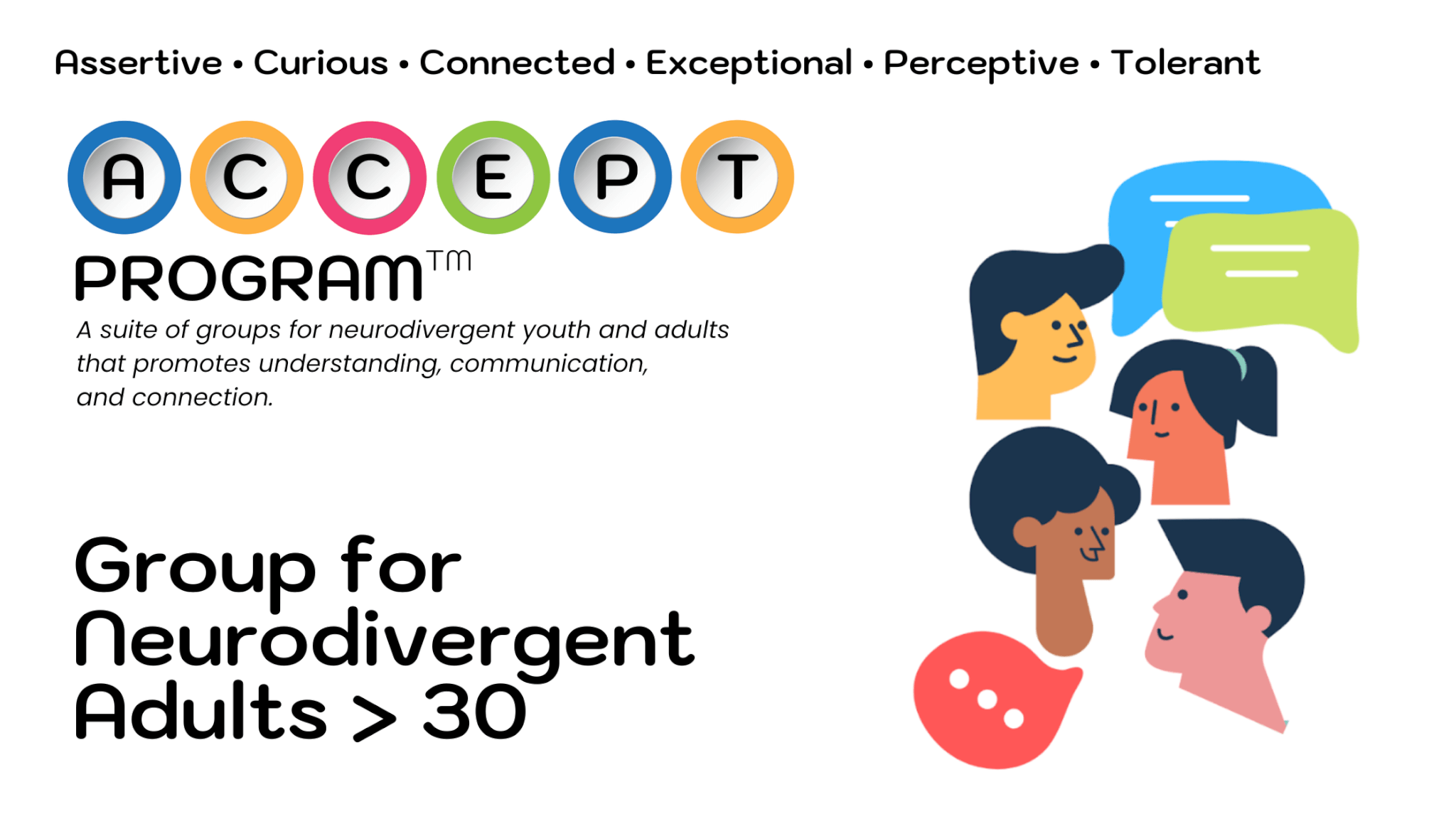 A virtual support group ideal for those who want to explore their Neurodivergent Operating System, build skills, and share experiences.
Click to learn more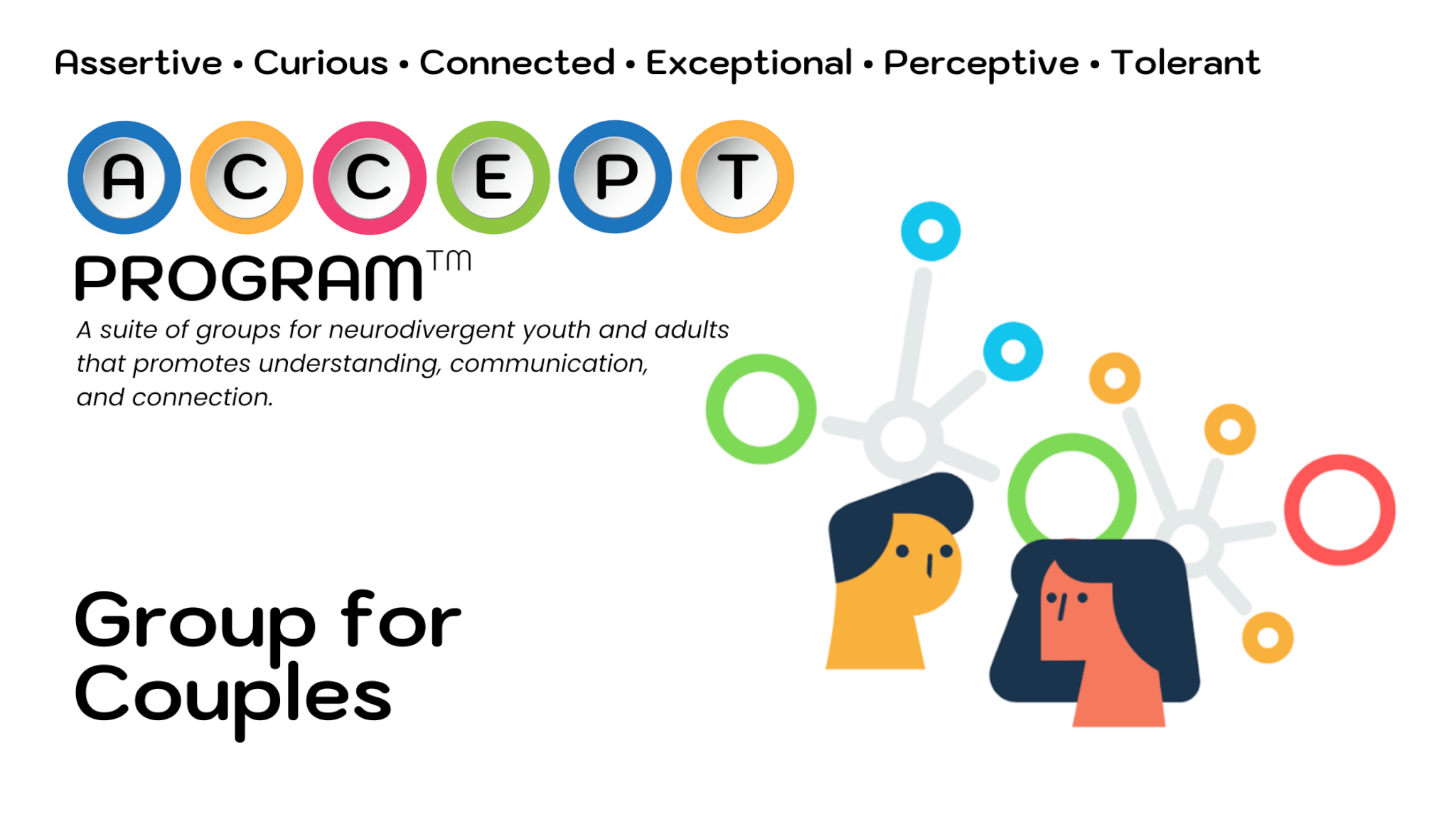 A virtual support group for ND/NT and ND/ND couples who want to explore and understand how neurodivergence impacts your relationship.
Click to learn more